To all new Weimaraner Owners – You have an extremely energetic, loving, family oriented pet that surely will become a standing member of your household for many years to come.  Weimaraners while challenging to train, can do so at a very early age and we recommend getting started as soon as possible with a professional obedience class that not only benefits the dog but the owner as well.  Once started you will meet people who will probably introduce you to the many activities you can get involved with your dog to increase the total experience of dog ownership.  We have summarized some of these activities below for your consideration and as a club we stand ready to assist you in getting started.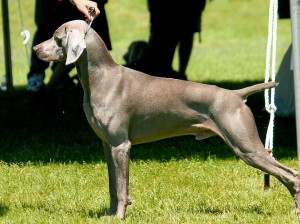 Dog Shows / Conformation – The American Kennel Club is the agency that registers the vast majority of pure bred dogs in the U.S.  Each breed has established a standard that depicts what the perfect dog in that breed should be like.  Refer to the Weimaraner standard in this web site. True breeders are constantly striving to meet that standard or come as close to it as possible.  At AKC sanctioned dog shows, dogs are judged to that standard and winners are determined.  Dogs are separated by sexes and judged by gender at first and then the best entered that day is chosen from among the winners.  Points ranging from one to five, depending on the total entry (the more entered the greater the number of points), are assigned to the winners.  Dogs and bitches must accumulate fifteen points, a minimum of six must come by winning at shows that assign three to five points (called majors) on two occasions to achieve their Championship and have the right to place a CH. before their name.  The dog judged best in breed that day can then go on and compete against all the other breeds in their group and then attempt to be judged the best dog at that show that day.  If interested consider show handling classes to learn how to properly present your dog for judging.
Field Trials – Being in the Sporting Dog Group, Weimaraners are especially good at hunting, pointing and retrieving game birds.  Like dog shows, field trials judge a dog's abilities in the field doing all th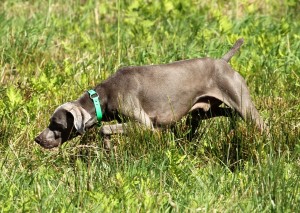 e aforementioned abilities.  They run with another dog in what is termed a brace and are evaluated by judges who follow on horseback.  Winning dogs are assigned points that lead to the title of being a Field Champion (FC), added to the dog's registered name.
Hunt Tests – These are designed to test a dog's hunting skills for finding, pointing and retrieving birds.  Their abilities are judged against a standard.  They are judged at different ability levels and as they master a level they are elevated to the next level.  Generally three titles are achieved beginning with Junior Hunter (JH), followed by Senior Hunter (SH) and culminating with Master Hunter (MH).  Again these title names may be added to the dog's registered name.
W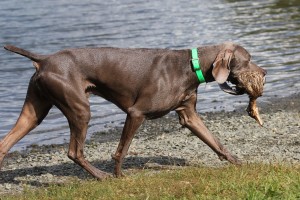 eimaraner Club of America Rating Tests – These offer still another way to determine a dogs ability in the field and at retrieving and are sanctioned through the Weimaraner Club of America.  Many times they are incorporated with Field Trials run by a local Weimaraner Club but do not have to be.  Field ratings are judged independent of land and or water retrieving ratings.  Having a dog perform well in both areas is a feather in any dog handler's cap.  Once again different levels of achievement exist for both sides to these ratings, Novice Shooting Dog (NSD), Shooting Dog (SD), Shooting Dog Excellent (SDX), Novice Retrieving Dog (NRD), Retrieving Dog (RD) and Retrieving Dog Excellent (RDX).  As dogs master one and earn its title they advance to the next level.
Obedience – Obedience trials are most often held in conjunction with dog shows either all breed varieties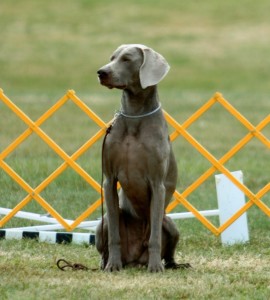 or breed specialties.  Dogs are required to perform exercises most of which are learned at obedience classes conducted by breed clubs, dog training facilities and at many adult community schools.  A judge will deduct points when these exercises are not performed with 100% accuracy.  In every exercise a dog must earn 50 % of the points and get a minimum of 170 points out of a possible 200 to qualify for a leg towards his/her obedience title that requires a total of three legs.  Entries are separated into A and B categories depending on handler experience.  Obedience Classes include Novice with Companion Dog (CD) as the sought after title.  Open with the title Companion Dog Excellent (CDX) and Utility granting a Utility Dog (UD) title.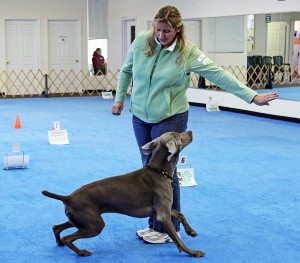 Rally – Similar to obedience but less demanding is this newer AKC event whereby dog and handler complete a course of designated stations with signed skills that must be preformed.  A variance of stations indicates several classes with increasing difficulty and to enter and ten to twenty stations must be completed. A passing score of seventy out of a possible one hundred is required to earn a leg towards a Rally Title. Like Obedience three legs earned lead to titles as Rally Novice (RN), Rally Advanced (RA), Rally Excellent (RE).  Rally trials again are generally run at Dog Shows.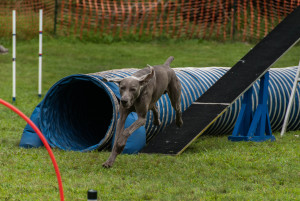 Agility – In this event dogs are required to complete an obstacle course in a prescribed time.  A handler's skill in training their dog is tested as the dog must complete the course with as few errors as possible.  Jumps, hurdles, ramps, tunnels, a see-saw and a line of poles to weave through comprise the obstacles on the course.  Scores are based on faults similar to horse show events. Once again as in obedience titles are earned via legs.  Titles include Novice Agility (NA) and Open Agility (OA).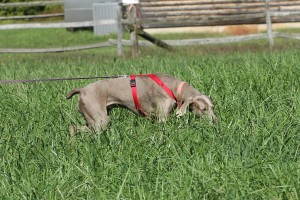 Tracking – Dogs have a very keen sense of small – 100,000 times stronger than humans!  Tracking is a canine sport that demonstrates a dog's natural ability to recognize and follow a scent and is the foundation of canine search and rescue work. Unlike obedience and agility trials, where dogs respond to the owner's commands, in tracking a dog is completely in charge, for only he knows how to use his nose to find and follow the track.  The greatest pleasure of tracking is the hours spent outside training and interacting with your dog.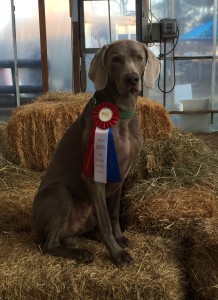 Barn Hunt – This is a new and quickly growing dog sport based on the traditional roles of ridding farms, barns, crop storage areas and homes of destructive vermin.  Some breeds were specifically created to fill this role, however any breed can play in the game of Barn Hunt.  Dogs search through bales of hay to find a rat, who is safe and secure in a plastic tube.  Barn Hunt is an independent sport but titles are recognized by the AKC.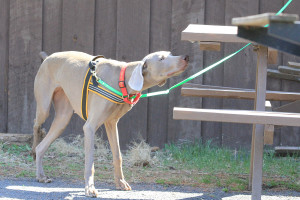 Nosework – This sport borrows elements from the activities of detection canines and puts them in a recreational setting.  This allows dogs to experience the fun, sniffing part of these activities without the risk, liability or requirement of professional canines.  Dogs have an amazing sense of smell and a natural desire to hunt and this sport encourages and develops your dog's natural abilities.  Elements of competition include box drills (container search), interior building search, exterior area search and vehicle search.  The target odors are Birch, Anise and Clove.  Titles in this sport are NW1 (Birch only), NW2 (Birch and Anise), and NW3 (Birch, Anise and Clove), as you progress an additional odor recognition is required.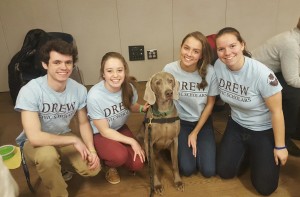 Therapy Dogs – A therapy dog and his handler provide company, comfort to those who may so need it as patients in hospitals, assisted living complexes, nursing homes and any other type of institution that might benefit from their visits.  Benefits include emotional well being, healing, and an overall improvement of quality of life.  Dogs and their handlers can be accredited by organizations offering these pet therapy services.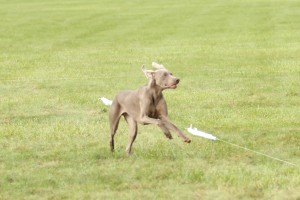 Lure Coursing – A system of mechanized lures and pulleys that simulate the unpredictability of chasing live prey. Dogs are evaluated for follow, speed, agility, endurance, and overall ability as they pursue an artificial lure zigzagging across an open field.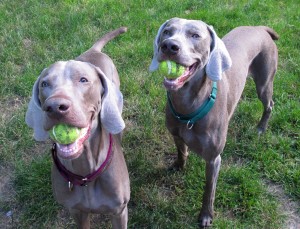 Pets – If none of the activities mentioned both competitive and non competitive are of any interest and you just want a faithful companion around the house to love and share family time with that is a most acceptable activity and a Weimaraner will provide that and much more if properly trained.  Enjoying your dog after all is the most important aspect of dog ownership.  Feel free to contact us for any dog related question and good luck!