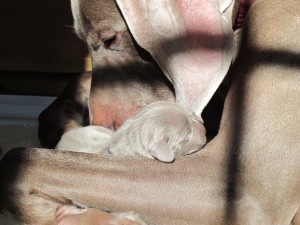 Breeder referral contact – Marilyn Impomeni
info@gardenstateweims.com / (201) 368-0994
Questions to ask a Breeder:
Has a veterinarian examined each puppy? Ask to see any evaluation given.
What guarantee will be given and for how long (days, months, years) regarding health and hereditary defects? In the event of serious problems, will a refund or replacement be given?
Have the hips of the parents been X-rayed and certified free of hip dysplasia? Ask to see the original certificate from the Orthopedic Foundation for Animals (OFA) for the dam: at least a copy for the sire. Have any other health checks been done (heart, thyroid, blood panel, CERF, etc.)
Do they belong to the Weimaraner Club of America and/or a local Weimaraner club and subscribe to their Code of Ethics?
Can you see and visit with the parents of this litter? With other relatives of these dogs? Do they have the temperament you seek?
Why did they breed this litter? Done correctly, breeding is not a money-making venture. Do you sense that the breeding was done to improve the Breed with better offspring or solely to make a profit?
Have the parents ever been shown in the conformation ring? If so, have they ever won their class or received any points? If not, are the breeders qualified to honestly evaluate the adults and the puppies?
Do the parents hold any titles in other canine sports such as field or obedience?
Can the breeder explain how the parents fit the breed standard?
How many litters a year do they breed? If this is their first litter, have they had the help and advice of experienced breeders?
Will the breeder assist you with puppy rearing, behavior problems, health and vaccine questions, location of good puppy obedience classes, help with activities in which you may become interested (personal hunting, field trials, hunting tests, tracking, agility, etc.)?
Are you purchasing this dog as a pet? Does the breeder encourage or even require spaying/neutering with explanation of the health benefits for your dog?
Are you purchasing this dog to show and/or breed? Contact a breeder with many years of experience in both showing and breeding. Anything less is a disservice to the breed.
Will the breeder guarantee that the dog will be taken back or that you will be assisted with placement if, for ANY reason, at ANY time, it becomes impossible for you to keep the dog? Most dogs are purchased with the best of intentions, but situations such as death, divorce, relocation, allergies, etc., sometimes make it difficult to keep the commitment.
Will you receive a written contract outlining the specifics of the issues listed above? Equally important, are you willing to abide by those requirements or expectations? Finally, the breeders should be asking you as many, or more, questions as you are asking them.
The purchase of a pure-bred dog should not be taken lightly. It is an expensive undertaking – the cost of the dog is only the beginning. The dog cannot be traded in like last year's car and it has no voice in its future – you are making a lifetime commitment to each other.