Club Officers
President – Michelle Ostrander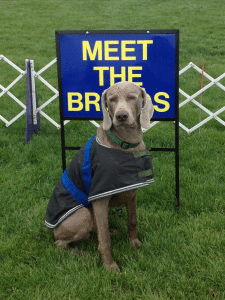 Vice President – Open
Treasurer – Mary Pavoni
Secretary – Marilyn Impomeni
Board Members – Dorothy Heinze, Tedder Zito, Anthony Zito
Contact: Marilyn Impomeni at info@gardenstateweims.com or (201) 368-0994
Club Objectives
To urge members and breeders to accept the standard for the breed as approved by the American Kennel Club (AKC) as the only standard for excellence by which Weimaraners shall be judged.
To encourage and promote the responsible breeding of pure-bred Weimaraners and to do all possible to bring their natural qualities to perfections.
To do all in its power to protect and advance the interest of the breed and to encourage sportsmanlike competition at dog shows, obedience trials, and field events and all AKC and Weimaraner Club of America (WCA) events.
To conduct matches, specialty shows, obedience trials, field trials and any other event approved or sanctioned under the rules of the AKC or where applicable, the WCA.
Membership
The club meets the 2nd Thursday evening of each month either via conference call or in-person meetings in the Watchung area.  Specific meeting dates are included in the calendar section of the website.  Please check the meeting notice or contact info@gardenstateweims.com as some meetings may be changed from in-person to conference calls.  If you are interested in joining the Garden State Weimaraner Club, please complete our Membership Application.